What Is Microdermabrasion?
Microdermabrasion is an effective, non-surgical way to get rid of acne scars, fine wrinkles and sunspots by exfoliating the top layers of the skin. No chemicals or laser beams are used. At Mediviron UOA Aesthetic Clinic, we use a combination of diamond-tipped microdermabrasion with aluminum oxide micro crystals that gently sandblast your skin, leaving it smooth and fresh. Microdermabrasion also stimulates collagen production, helping your skin rejuvenate faster than normal. Also called the lunchtime peel, microdermabrasion takes up to 45 minutes for the face and has no downtime.
What Are The Benefits Of Microdermabrasion?
Microdermabrasion improve the following:
superficial acne scars
blotchy skin
large pores
age spots
sun spots
fine wrinkles
uneven skin tone and texture
Microdermabrasion can reduce fine lines and wrinkles, helps fight acne and remove acne scarring, evens skin tone, eliminates white and black heads, minimizes large pores and revitalizes dull skin. Microdermabrasion helps skin regeneration by increasing its elasticity and collagen production. The skin looks fresh and feels smooth as soon as treatment is over. With microdermabrasion, there is no recovery time and no discomfort.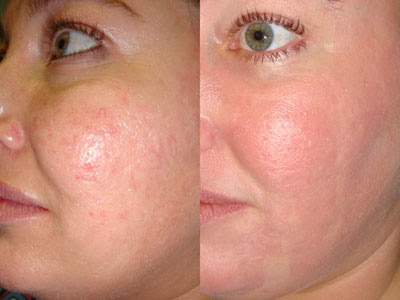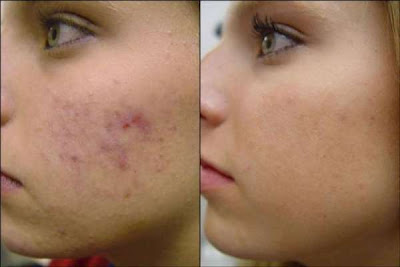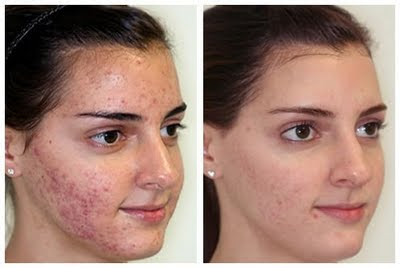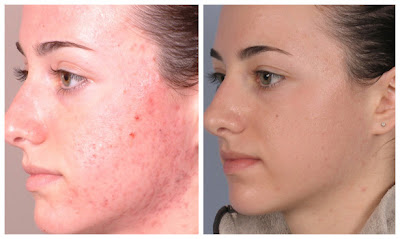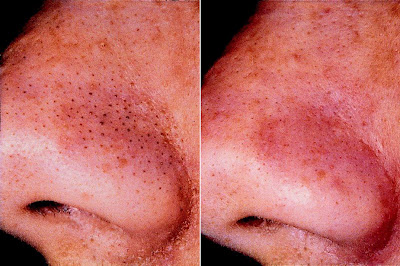 Before and after microdermabrasion. Click on the image to zoom.
What Does Microdermabrasion Involve?
Your skin is first cleansed with our iS Clinical Cleansing Complex. We then starts the microdermabrasion procedure using a hand-held device. The aluminum oxide micro crystal flow is sandblasted through a small tube pressed against the skin. The tube also vacuums back dead skin cells and used micro crystals.
The crystal flow starts as soon as the microdermabrasion wand touches your skin. We slowly move the wand across your entire face and not just on treated areas, so that you don't experience inconsistencies in skin texture or color.
For hard to reach areas such along the laugh lines and the folds around the nasal area, we use the diamond-tipped head to do the microdermabrasion.
After microdermabrasion, your skin is soothed with iS Clinical Pro Heal Serum to speed up healing, allowing you to go back to your daily routine immediately after treatment. We also apply Hydra Cool Serum for deep hydration and SPF25 Treatment Sunscreen to protect the treated area. These products are applied immediately after your procedure without additional charges.
What Is The Difference Between Microdermabrasion And Dermabrasion?
Dermabrasion is a mechanical procedure that uses a power driver hand-held device to remove the top layers of the skin. It may need general or a local anesthetic, depending on the treated area. Dermabrasion lasts between a few minutes and two hours, depending on the depth and area of the skin resurfacing. After dermabrasion treatment, the skin is red, swollen and extremely sensitive for about 10 days. Dermabrasion can offer visible improvement by treating deep wrinkles, scars, and hyperpigmentation but has a long downtime.
Microabrasion is much less invasive. We use a sandblaster-like hand-held device to spray and circulate high pressure flow of aluminum oxide crystals onto the skin. Used crystals and dead skin cells are then vacuumed back into the microdermabrasion machine, leaving the skin clean and smooth. We also use diamond-tipped microdermabrasion head for hard to reach areas; these do not employ use of crystals.
Is Aluminum Oxide Safe?
Aluminum oxide crystals are perfectly safe and non-toxic if ingested. They don't cause adverse skin reactions and are not cancerous. During microdermabrasion, your eyes are protected by special goggles, to prevent micro crystals from getting in your eyes. The special wands in microdermabrasion machines used in our clinic are designed to vacuum back all micro crystals released during micro dermabrasion. That way, chances of inhaling the aluminum oxide are very slim.
How Much Time Does Micro Dermabrasion Require?
A typical microdermabrasion face treatment takes 45 minutes. However, if you want your neck or other parts of the body treated, it may last up to an hour.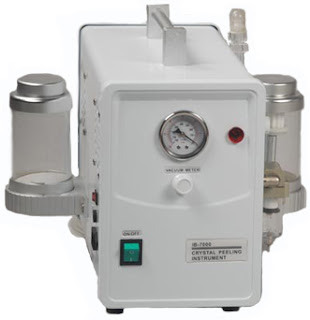 What Should I Ask At The First Microdermabrasion Consultation?
A first microdermabrasion consultation takes about half an hour. Discuss your medical history with our doctor and we can help you decide whether microdemabrasion is suitable for you. We will establish your skin type, explain what's involved and help you set reasonable goals and expectations. We will tell you about any contraindications and involved risks.
How Many Treatments Are Required?
Major changes are obvious after the fifth session, even though most patients say they observed some improvements after the first two. We suggest at least 5 treatments, scheduled two weeks apart, so the skin has time to recover between microdermabrasion sessions. After the recommended number of sessions, you may have to schedule another abrasion once every two or three months, to maintain the effects.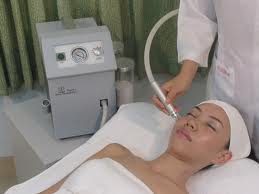 Will I Experience Any Discomfort During Treatment? Does It Hurt?
Microdermabrasion treatment is painless. Some patients have reported some itchiness or stinginess when micro crystals came in contact with their skin. You may feel some discomfort around the eyes, but as microdermabrasion treatment continues, your skin gets used to crystal flow. It feels like a mild facial massage from a special wand. Your face may appear a little pinkish in the first 24 hours, but you should not experience any itchiness or pain.
All skin types and colors can be treated with microdermabrasion.
How Soon Can I Return To Work?
You can return to work the minute you leave our clinic. If your skin looks reddish, like after a mild sunburn, you can cover it up with some light make-up.
When Do Microdermabrasion Results Become Visible?
That depends on your skin condition. Some patients reported changes after the first or second treatment. Your skin will look cleaner and healthier after a few microdermabrasions, but major changes (like reduction of wrinkles and scars) become visible after five treatments.
Is There Maintenance Treatment After Microdermabrasions?
After a complete series of microdermabrasion treatments, you may want to keep your skin looking smooth and younger by scheduling a microdermabrasion-maintenance session once every 2 to 3 months.
What Should I Expect After Treatment?
Some redness might occur on treated areas, but they generally disappear after a few hours. During the first 24 hours, your skin may feel dry, similarly to effects of a mild wind or sunburn. Use lots of moisturizer during the first few days. Avoid excessive sun exposure for at least a week after the treatment. You should a sunscreen of SPF25 and above at least twice a day for 2 weeks. Do not go swimming or use any harsh facial products such as scrubs or exfoliants for the next 3 to 4 day.
Are There Any Microdermabrasion Contraindications?
Microdermabrasion is not recommended to keratosis sufferers, people with undiagnosed lesions, active rosacea, uncontrolled diabetes, auto-immune disorders, fragile capillaries, eczema, dermatitis, psoriasis or lupus.
You should not combine microdermabrasion with skin peel, Fractional CO2 laser or Dermaroller on the same day as these treatments are more harsh. However, you can combine microdermabrasion with other aesthetic procedures such as Botox, dermal fillers, Sculptra, mesotherapy, Medlite C6 laser or Candela GentleYag laser.
Are There Any Risks Involved?
Microdermabrasion is virtually risk-free. It is non-invasive and mild, so you have nothing to worry about. Our medical staff sterilizes the equipment or change the disposable pieces before use. That way, the risk of infection is practically zero.